Unofficial World Championship Checker Problem Composing Contest 64
Thwarted and Unthwarted Thefts
September 17, 2022---October 31, 2022
This contest page has been viewed 320 times by 142 unique visitors.
Unofficial World Championship Checker Problem Composing Contest 64 – Results
Edward Cox Atkinson passed away on August 24, 2022, less than a year after Roy Little. These contests have now lost their two all-time leading problem composers. Ed and Roy are already sorely missed. When their backlogged problem entries are exhausted, these contests will likely starve. It is fitting that Ed's Left Side Story handily won Contest 64 with 5 votes. Lloyd Gordon (Canada), Slava Gorin (Russia), George Hay, and Don Myles voted for it. Tied for second, with 2 votes each, were Singled Out, by Roy, and Way Subtle, by Jim Loy. Kathy Wirthwein voted for Singled Out. Trailing with one vote, by Liam Stephens (Ireland), was Stop, Thief!, by Bill Salot.
Contest 64 had 142 visitors, 10 of whom voted.
The International voters' ladder now stands with a new leader, as follows (changes are in Bold):
1. Don Myles, 6 wins in 9 tries (67%)
2. Liam Stephens (Ireland), 18 wins in 31 tries (58%)
3. Kathy Wirthwein, 15 wins in 27 tries (56%)
4. George Hay, 17 wins in 32 tries (53%)
5. Gene Ellison, 11 wins in 23 tries (48%)
6. Lloyd Gordon (Canada), 12 wins in 27 tries (44%)
7. Slava Gorin (Russia), 11 wins in 26 tries (42.3%)
8. Wilma Wolverton, 5 wins in 12 tries (41.7%)
9. Gary Ellison, 4 wins in 13 tries (31%)
Sixteen (17) others have either picked fewer than 31% winners or voted in fewer than 9 contests.
The game of checkers is one place where stealing is condoned, not condemned. But the intended victims do not always concede. The characters in this crafty quartet either commit the crime or are caught in the act. There a dearth of Kings and a plethora of game-like positions, with different styles and different outcomes. Kindly compare their animated solutions and then cast your carefully considered vote for the composition that impresses you most. If interested, climb the free voters' ladder by e-mailing your vote to the address below the diagrams.
After you've reviewed the problems, cast your ballot in the box below.
Cast Your Vote!
Voting Booth
Which problem should win the championship?
| | |
| --- | --- |
| Left Side Story | 5 |
| Way Subtle | 2 |
| Singled Out | 2 |
| Stop Thief | 1 |

Total votes: 10



Stop, Thief! 4x3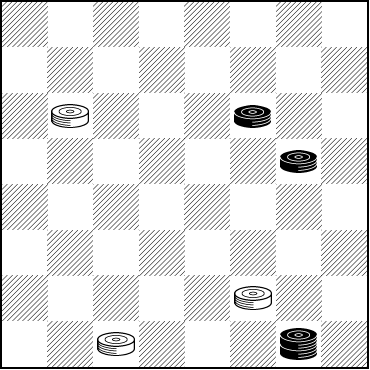 White to Play and Draw
Way Subtle 5x5
White to Play and Win
Left Side Story 6x6
White to Play and Win
Singled Out 8x8
White to Play and Draw
Previous Contests
Contests 1-55 can be accessed on the old contest page.
Contest 56 can be found here.
Contest 57 can be found here.
Contest 58 can be found here.
Contest 60 can be found here.
Contest 61 can be found here.
Contest 62 can be found here.
Contest 63 and the current International Voters' Ladder standings can be found here.
Enter Your Own Problems in Future Contests
Please enter your original, unpublished, dual-free problems in future contests by sending them at any time to:
Bill Salot
1006 Elmwood Drive
Colonial Heights, VA 23834-2905
or
Privacy Note: This page makes use of cookies and records IP addresses for the sole purpose of tallying votes and site visits.
Contests are managed by Bill Salot and presented by The Checker Maven.